Social Media Apps
Social Media Management
Overview
Social Publishing
Engagement
Analytics
Social Marketing Apps
Overview

Video Contest

Caption Contest

Photo Contest

Referral

Voting Contest

Surveys & Polls

iFrame Editor

Sign Up

Sweepstakes

Photo Showcase

Partner Links

Instagram Feed

Youtube Channel

Exclusive Download

RSS Feed

Document Show

Google Map

Catalog
The Video Contest app allows brands/companies to launch a video contest on their Facebook pages. It attracts fans to participate in the contest by submitting videos. The videos can be submitted through Vine, Instagram or directly from the app on the go while travelling through mobile devices.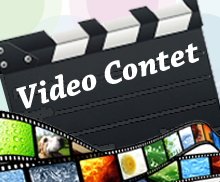 View Sample
or Scan the QR code to view sample on your mobile device.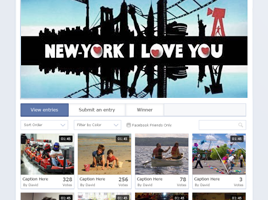 Facebook video contest for engagement
The administrator can create customizable entry form in which participants enter their name, email, caption for the video etc. The video can be uploaded from Facebook page or from Vine and Instagram. Participants can submit any no. of videos of their choice before the deadline for submissions. Those who want to vote may view all the entries before making a decision. Only one vote per person is permitted. Viewers vote for the best video and you can select top ones as for winners.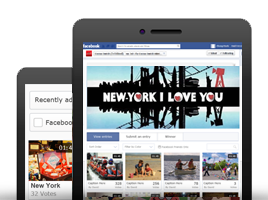 Encourage your fans to share
Video contests are popular means of attracting consumers' attention and many companies including large corporations post online video contests offering attractive prizes to winners. Once submitted, the videos become the property of the company sponsoring the contest and may be used for advertising purposes. The contests may be theme based and attracts participants by challenging their creativity in making good videos. You can gather no. of 'Likes' from participants through the 'Like' gate. It is yet another means of engaging with your fans and grow your fan community.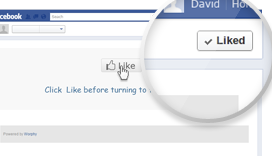 Fan Gate - Facebook Likes
Like a gated community, you can either allow only those who like your content in or allow all people through the gates. Add a "like" gate and turn visitors into fans.