Social Media Apps
Social Media Management
Overview
Social Publishing
Engagement
Analytics
Social Marketing Apps
Overview

Video Contest

Caption Contest

Photo Contest

Referral

Voting Contest

Surveys & Polls

iFrame Editor

Sign Up

Sweepstakes

Photo Showcase

Partner Links

Instagram Feed

Youtube Channel

Exclusive Download

RSS Feed

Document Show

Google Map

Catalog
This social app lets you tap the power of your client base through refer a friend programs. It has potential to enlarge the base exponentially in a way similar to traditional word of mouth. It attracts the attention of clients through incentivization. Clients can earn exciting rewards in various forms like free entry into sweepstakes, cash rebates, coupons etc. through referrals.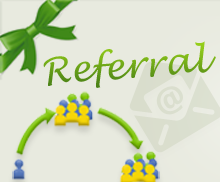 View Sample
or Scan the QR code to view sample on your mobile device.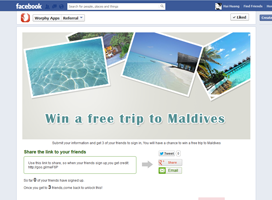 How Social Referral Works
This easy to use app allows visitors to fill up simple customizable forms where details about referred persons are included. They can also share the referral link with their friends through email, Facebook, Twitter and other social media pages. Each referral is tracked continuously by recording the information in a database and the incentives to be awarded are flagged individually when the targets have been achieved.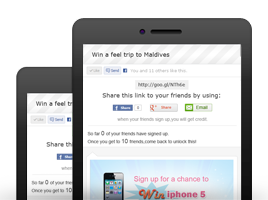 Benefits of Social Referral
You as the campaign manager can monitor the referral program by keeping count of individual referrals, find out how many of them converted into actual sales as well as the ROI. You can also identify the influence of each client in making referrals and offer special incentives to super referrers. The campaign can be fine tuned or abandoned altogether depending on whether the expected goals have been achieved within the allotted time frame or not. This social media marketing software is one of the simplest means of expanding your company's business by exploiting the power of the social media and virtually operate in auto mode with little effort required on regular basis.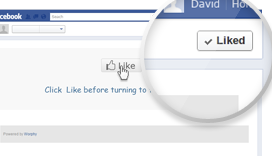 Fan Gate - Facebook Likes
Like a gated community, you can either allow only those who like your content in or allow all people through the gates. Add a "like" gate and turn visitors into fans.