Social Media Apps
Social Media Management
Overview
Social Publishing
Engagement
Analytics
Social Marketing Apps
Overview

Video Contest

Caption Contest

Photo Contest

Referral

Voting Contest

Surveys & Polls

iFrame Editor

Sign Up

Sweepstakes

Photo Showcase

Partner Links

Instagram Feed

Youtube Channel

Exclusive Download

RSS Feed

Document Show

Google Map

Catalog
Caption contest app tests the ability of participants to write whacky captions relevant to the picture posted on the Facebook page. The app can also be used for slogan contest, essay contest and many other types of contest for competing written thoughts. Captions that are catchy, humorous and topical gather the maximum no. of votes and win the prize. Captions can be submitted from any desktop, tablet or mobile device.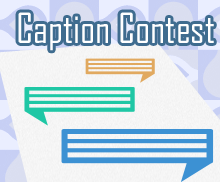 View Sample
or Scan the QR code to view sample on your mobile device.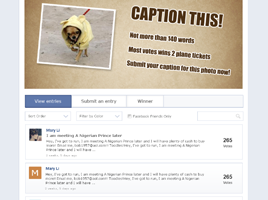 Facebook caption contest for engagement
The app allows administrator to set up the contest by creating customizable entry forms, form for viewing the entries for voting and also announce winners. You may upload a picture of your choice for the contest and limit the size of captions to a predetermined length. Participants can submit any no. of captions before the deadline and also provide details like name and email etc. Viewers can vote for the best caption of their choice but are permitted to vote only once within specified period. The winners as per the administrator's decision win the prize.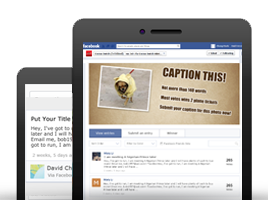 Encourage your fans to share
The Caption Contest marketing app tests the writing skills of fans. If you are looking for s suitable caption / slogan for a product that you are about to launch, this app may give you the leads. Fans would be attracted by the prize offered as well as get the satisfaction of having won a contest against competition. The fan size would also grow through the 'Fan gate'. It is one more way of customer engagement.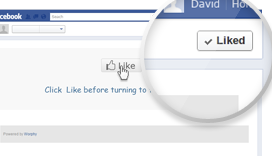 Fan Gate - Facebook Likes
Like a gated community, you can either allow only those who like your content in or allow all people through the gates. Add a "like" gate and turn visitors into fans.